What Is Your Customer Retention Rate? (And Why Is It A BIG Deal?)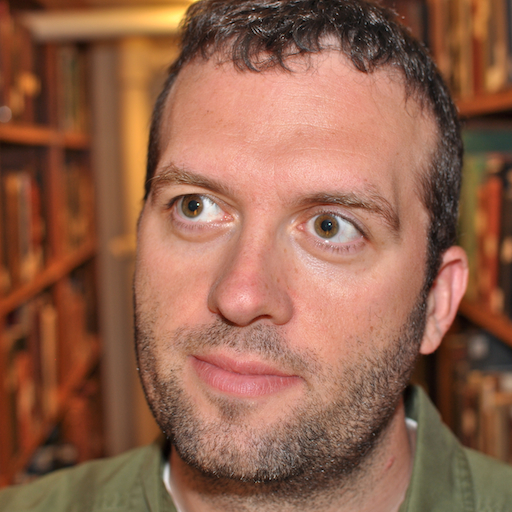 Written By
Ian Landsman
Last Updated
September 10, 2019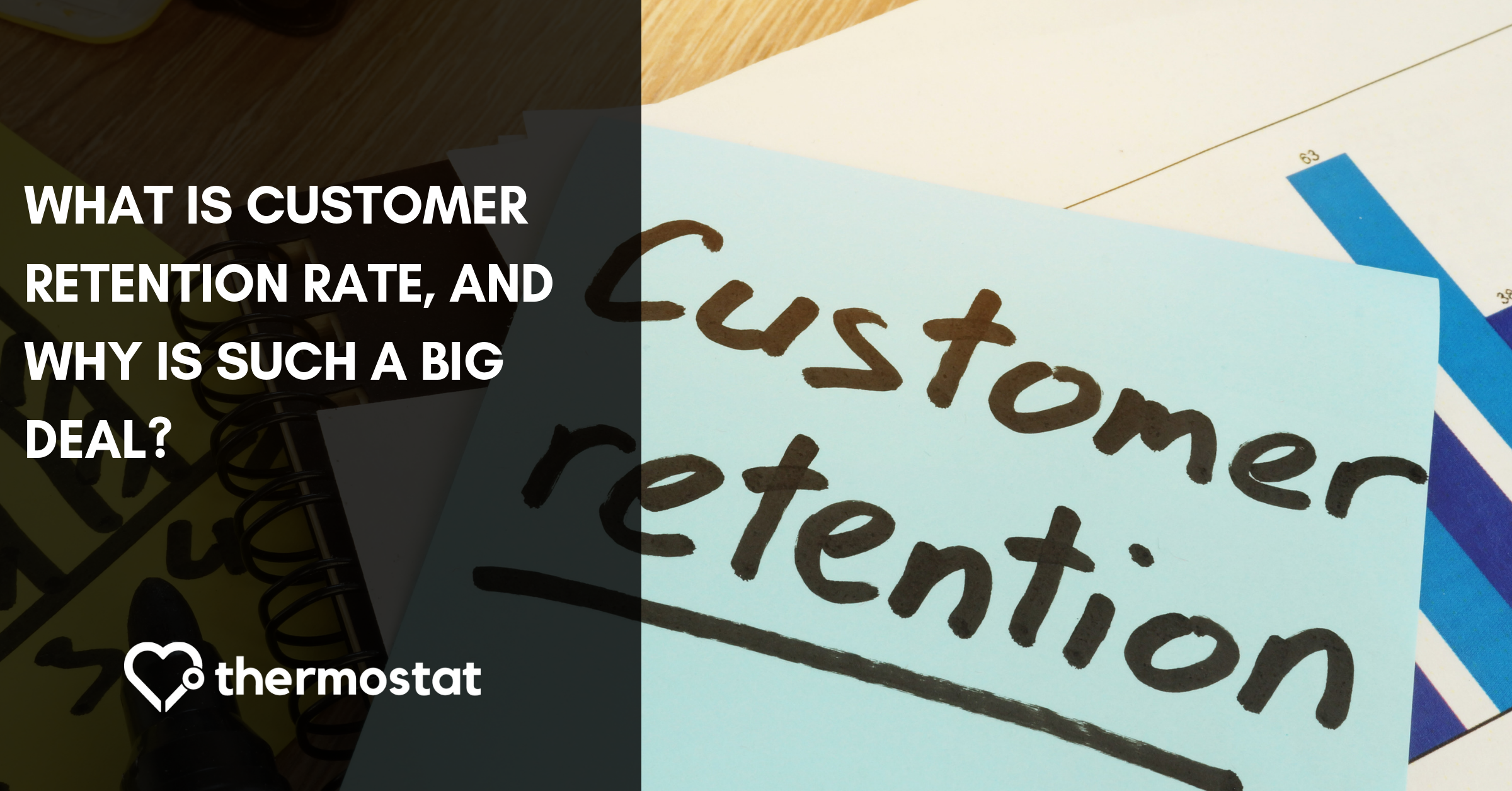 Your customer retention rate is a great way to measure the overall success of your business.
If it's strong, your business is on a growth trajectory.
If it's weak, it's only a matter of time until your business fails.
So what is customer retention rate, and why is such a big deal?
In this guide, we break down everything you need to know about customer retention rate, including how to measure it, how to improve it, and how to use it to grow your business.
Let's get started.
Try Thermostat NPS. 200 NPS surveys free each month.
Blog readers get %5 off paid plans for life with code: blog
Learn More →
What Is Customer Retention Rate?
Customer retention rate is the percentage of customers who have remained with your business over a given period of time.
For example, let's say you offer a monthly software subscription. You start the month of August with 100 customers and over the course of that month, you gain some new customers and lose a few customers.
Your customer retention rate is the percentage of that original group of 100 customers that is still paying for your software when September begins.
That's a pretty simple equation, and we'll dive into how to calculate here in a second, but first, why is this particular number so important?
Why Customer Retention Rate Is Such An Important Metric
Your customer retention rate is important simply because your actual customer retention is important.
Your customer retention rate is a good quantitative indicator of customer loyalty and satisfaction. It reveals how effective your business is at keeping your customers happy throughout each stage of the customer lifecycle, from their very first interaction with you to the product itself and the quality of your customer service. It also shows how powerful your current marketing strategy is at encouraging repeat business.
Loyal customers are worth more to your business, spending 67% more than new customers on average over time. They'll also pay a 16% price premium on products and services. What's more, those that have an emotional connection with your brand have a 306% higher lifetime value according to Motista.
However, loyal customers aren't built overnight. Retention is key to building brand loyalty, and over a third of all customers say it takes more than five purchases before they truly start to feel loyal to a brand.
Loyal customers also have a high conversion rate, making it easier and more cost-effective to market to them. The likelihood of converting an existing customer is between 60% and 70%, compared to new leads that convert more than a third less at 5% to 20%. In other words, it's easier to market to your existing customer database than it is to market to a completely new set of customers.
Finally, loyal customers are essential to bring in new customers for free using word-of-mouth. With American Express' #WellActually survey showing that 90% of consumers share their experiences with others, your loyal brand advocates will help to spread the word about their positive experience and refer around 11 new customers to your business.
Calculating Your Customer Retention Rate
So now that we understand why your customer retention rate is such an important metric to track, let's break down exactly how to calculate it.
Here's the key data points we'll be using:
The number of customers you had at the start of your chosen period (S)
The number of customers you had at the end of your chosen period (E)
The number of customers you acquired during your chosen period (N)
Once you have these, you can calculate your customer retention rate (CRR) using the simple formula below:
CRR = ((E-N)/S) x 100
For example, let's say you had 90 customers at the start of the year (S). During the year, you acquired 20 new customers (N) but lost 5, which means you have a total of 105 customers at the end of the period (E). Using these numbers, you'd calculate your customer retention rate as follows:
CRR = ((105-20)/90) x 100
In other words, your customer retention rate for the year would be 94.4%.
So what's a good benchmark for your customer retention rate? In an ideal world, it's 100% but realistically the average customer retention rate is less than 20% according to a Mixpanel report. However, the benchmark retention rate also depends on your industry. Media and finance average a 25% retention rate, while SaaS companies have a higher average at 35%.
In addition, your customer retention rate shouldn't be the only statistic you use to measure your customer loyalty and satisfaction. Customer retention is just one tool in your toolkit, and can be used together with customer satisfaction survey questions in order to give you a holistic overview of how your brand is performing on the customer loyalty front.
Your Customer Satisfaction Score (CSAT) and Net Promoter Score (NPS) are crucial measurements you can use to gather feedback around your customer loyalty and satisfaction.
The former asks customers to rank their satisfaction about a particular product or interaction with your brand on a scale of 1-10. It typically looks like this: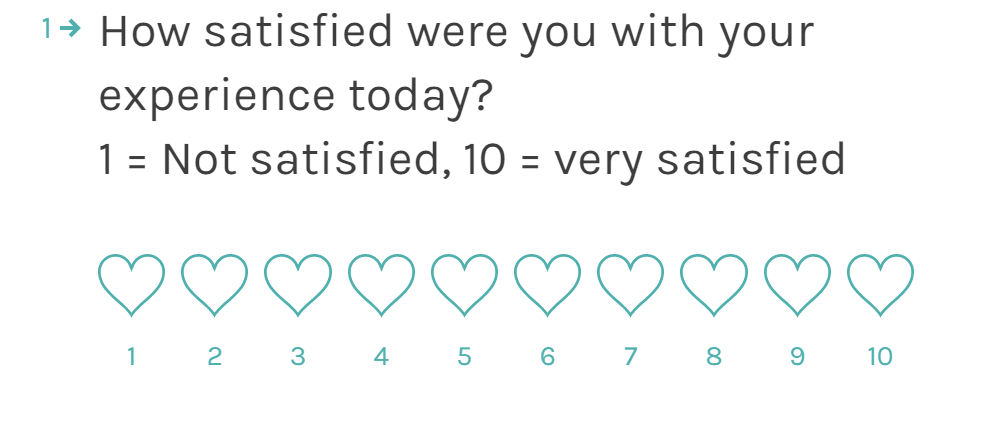 CSAT is a useful way to get short-term insights into how happy customers are with key elements of the customer journey, such as user experience, customer service or your product.
On the other hand, the NPS is an essential tool that measures overall customer satisfaction. It's used to predict long-term trends in loyalty and retention, and looks like this:

Based on their response, your customers are grouped into Detractors (0-6), Passives (7-8) and Promoters (9-10). Your NPS is then calculated using the formula NPS: % of Promoters - % of Detractors. The final score ranges from -100 to 100, with a positive score indicating that customers are satisfied with your brand, and a negative score indicating there's room for improvement.
Used together, this trifecta is a powerful way to understand where your brand is nailing it on the customer experience front, and where you could improve. For example, if you have a low customer retention rate, you could send out a survey that incorporates NPS and CSAT questions to gauge your customer satisfaction levels and ask customers for feedback.
The Million Dollar Question: Retention Or Acquisition?
As we touched on before, both acquisition and retention are important for business growth. However, brands that invest in customer retention first and foremost benefit from higher ROI and more cost-effective marketing strategies than those that center their investment and strategy purely around acquisition. 82% of companies agree, saying that retention is more affordable than finding new customers.
While it's tempting to focus on how many new customers are coming through the door, consider this: It costs almost 16 times as much to build a long-term relationship with a new customer than it does to focus on nurturing the loyalty of an existing one. Customer retention is also faster than acquisition, as you don't need to educate the customers on your brand or win their trust.
If your brand is focused on acquisition, this also means your existing customers may feel overlooked and undervalued. The result? A third of customers say they'll switch providers because they feel there's no reward for their loyalty. Further to this, InMoment found that 50% of customers surveyed say they've left a company for a competitor who was able to stay more relevant and meet their needs over time.
Retention also drives loyalty, which in turn actually supports your acquisition strategy through referral marketing. Loyal customers post reviews and share their experiences with friends and family on social media. This in turn improves your brand awareness and improves your conversion rate: Word-of-mouth is the most trustworthy source of information, with Nielson reporting that 84% of consumers say they completely trust or somewhat trust recommendations from friends, family and peers. Referrals are also the primary factor behind 20% to 50% of all purchase decisions.
Ultimately, while acquisition should still form a key part of your marketing actions, this should be complemented by a strong customer retention strategy.
5 Strategies To Improve Your Customer Retention Rate
After you know your customer retention rate, it's time to start working to improve it. At its heart, improving retention is about listening to your customers, building loyalty, and ensuring your customers are happy. Here are some actions that you can take to boost your customer retention rate and reduce churn.
1. Ask For Customer Feedback
The best way to figure out how to keep your customers coming back? Ask them. Your customers are ready and willing to tell you what they want from you, with Vision Critical reporting that 87% of survey-takers saying they want to have a say in a customer's product or services. A customer feedback survey takes the guesswork out of building a customer retention strategy, allowing you to understand exactly what they're looking for and how you can better serve their needs.
Customer feedback surveys don't need to be lengthy for you to extract important insights on loyalty and satisfaction. Two of the most popular survey methods which we mentioned earlier ⁠— CSAT and NPS ⁠— can stand on their own as micro-surveys, reducing the barrier to response while simultaneously helping you glean information on what's working and what's not. These questions can be used once a customer makes a purchase or after a key interaction with your brand (such as a customer service call). The NPS is also a great tool to help benchmark your brand's performance against others in your industry, and to rally your team around the goal of customer satisfaction (more on that in this post here).
Regardless of which route you take, it's important to be deliberate about the questions you put into your survey. For each question you include, have a key outcome in mind that you're trying to measure, and a clear idea on how you will use this information to improve your customer experience.
2. Create A Loyalty Program To Reward Your Customers
A lot of brands have loyalty program these days, and there's a good reason behind that. Loyalty programs are a big driver of customer retention and repurchase. More than half of all customers say they will join a loyalty program with a preferred company, and 54% say they would consider purchasing more frequently with a business for loyalty rewards.
However, not all loyalty programs are equal in the eyes of consumers. The most effective loyalty programs are tailored to the product and the customer, and include a range of rewards including:
Financial incentives, such as discounts on products. Accenture reported that 61% of customers find financial rewards enticing.
Value-add services, such as an upgraded product or service
A gift with purchase
Points that can be redeemed for rewards
Partner discounts or offers
The takeaway here is that if you're creating or revamping your loyalty program, you should start with your customer needs and their interactions with your brand and build from there. Reward a variety of actions rather than only rewarding purchases—for example, customers could earn points for posting a review on Facebook or referring a friend, or fill out a survey for a chance to win a voucher.
3. Personalise And Target Using CRM
Customer relationship management (CRM) is a powerful tool for customer retention. Using the power of automation and data, CRM helps you deliver the right message to your customers based on their previous behaviour and preferences. This in turn builds a strong and personal relationship with your customers, where you're targeting them with personalised and considered communications.
A strong CRM strategy works hard for your brand at each point in the customer lifecycle in order to encourage purchase and retention. This means:
Awareness. Users have just discovered your brand, and the most important thing to do here is capture their data so you can start building a relationship with them. Encourage them to sign up to a mailing list, so they can receive regular access to exclusive discounts and be the first to hear about new products or services.
Consideration. At this stage, it's all about relationship building, and consistent communication is key. Send customers newsletters, tailored product recommendations, discounts and happy birthday emails to keep your brand top of mind.
Conversion. These communications are designed to encourage customers to convert, and could include automated emails reminding them to complete their purchase, or an additional incentive to get them over the line.
Retention. This is where you nurture the relationship after you 'seal the deal'. Customers want to feel like a brand cares about more than just their money, and your CRM should help do this. Focus on providing product recommendations based on their previous purchases, ask them to sign up for your loyalty program and send automated customer feedback surveys to learn more about their experience.
Advocacy. As we mentioned before, loyal customers are brand advocates that can boost your acquisition efforts. The advocacy stage in your CRM cycle is designed to help this along. Send an email to existing customers with a reward or offer for referring a friend (think AirBnB's Coupon Codes or Uber's Referral Program).
4. Implement A 'Win Back' Strategy
You may have cast your pool of lost customers into a pile and forgotten about them. But, when targeted effectively, these customers are a quick and cost-effective way to improve your customer retention rate.
Why?
Because they already understand your brand and have demonstrated they have a need for your product or service. By trying to win these customers back through dedicated actions, you have a higher chance of success than going out and finding a completely new set of leads.
However, a win back strategy isn't right for every customer. The Harvard Business Review found that those who didn't repurchase because of price are far more likely to return than those that had a bad experience with your customer service team. Try and narrow down the target for your win back strategy as much as possible, and test and learn to see what kind of incentive works on them.
5. Set KPIs For Customer Retention
It's one thing to track your customer retention rate. It's another thing entirely to place customer retention at the heart of your business by setting objectives and KPIs for your team.
Regardless of the department they're working in, customer retention should be a shared goal between every member of your team, which is then funneled down to different functions and their role in the customer lifecycle.
To identify and set KPIs, map out every stage of the customer lifecycle and evaluate how different business functions that contribute to the customer experience at that stage and what KPIs could be used to measure this. For example, your customer service team could have KPIs for the percentage of resolved complaints while your CRM team could have a KPI on the number of loyalty program members.
By setting objectives and tracking them regularly, you can ensure that every member of your team is working towards the same goal: delivering standout experiences for your customers.
Next Steps
Improvement always starts with understanding, and that's why we created Thermostat, a powerful tool you can use right now, completely free, to take the temperature of your customers and find out where you stand.
Click below to get started:
Try Thermostat NPS. 200 NPS surveys free each month.
Blog readers get %5 off paid plans for life with code: blog
Learn More →
Our best articles, right to your inbox