7 Tips for Making Your NPS Feedback Actionable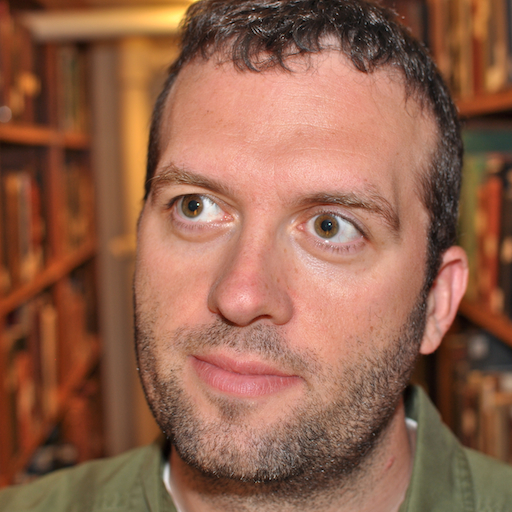 Written By
Ian Landsman
Last Updated
October 21, 2019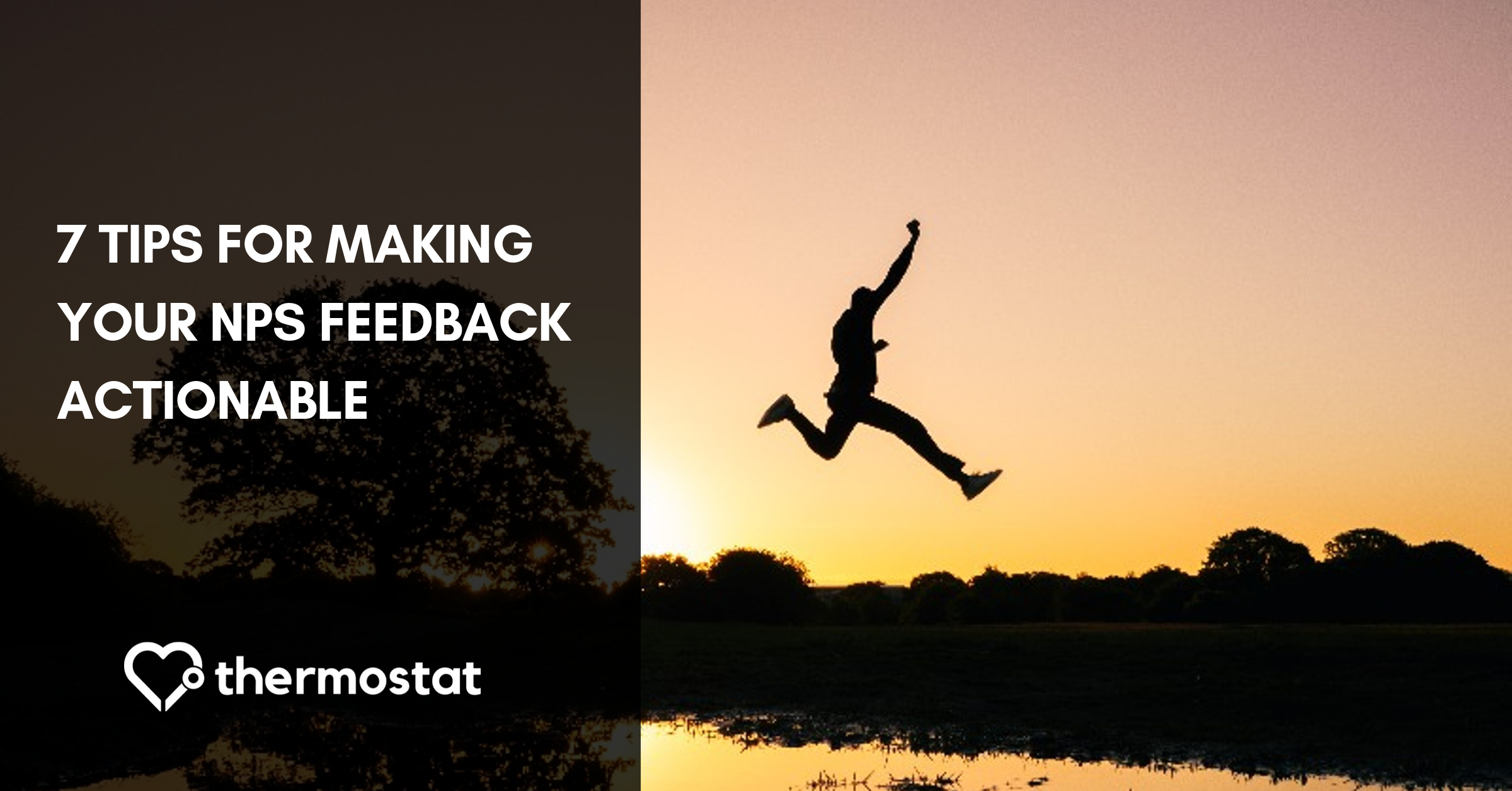 Open-ended feedback gathered from your NPS survey provides you with a unique source of insight into what your customers are thinking and feeling about your brand. But in order to derive actual value from your NPS feedback, you've got to make it actionable for your business.
Taking action on your NPS feedback requires that you interpret open-ended commentary carefully, make wise decisions about highlighting specific insights, and report results to relevant team members or departments within your company.
The goal of any NPS survey is not simply to find out what's going terribly wrong — or wonderfully right. It's to use your feedback as a framework for improving your product or service so that you can generate happier, more loyal customers.
Here are 7 tips for making your NPS feedback actionable:
Try Thermostat NPS. 200 NPS surveys free each month.
Blog readers get %5 off paid plans for life with code: blog
Learn More →
1: Organize your NPS feedback by score type.
First, you'll want to organize your feedback by score type (or NPS rating) generated from the question, How likely are you to recommend this brand to a friend, family member, or colleague?
Typically, survey takers are then given an opportunity to provide you with open-ended feedback that explains their rating choice.
Their initial rating allows you to sort their open-ended feedback into three categories:
Promoter feedback is generated from survey takers who have scored you a 9 or 10.

Passive feedback is generated from survey takers who have scored you a 7 or 8.

Detractor feedback is generated from survey takers who have scored you a 6 or below.
Organizing the feedback into these three categories allows you to tackle feedback methodically and effectively. By matching the feedback to the rating, you can analyze why some customers are exceptionally happy with your product or service, others are neutral or just satisfied, and others are downright upset.
2: Identify and highlight important feedback.
Depending on the size of your customer base — and company — you may potentially be surveying tens of thousands of customers. That being the case, you may not be able to follow up on feedback from every single survey taker. But you should highlight feedback that may be especially relevant or critical.
Here are some examples of feedback that would be considered of exceptional importance:
I received my last shipment 1 week after the estimated arrival time. By the time it arrived, the package was crushed. Not OK!!!!!!!!!!
This kind of feedback, generated from a detractor, requires individual follow-up with the customer, troubleshooting what happened, and action to prevent the same situation from happening again.
Customer support staff is soooooo helpful! Walked me through figuring out an issue with my site, and now everything is working 100%. Thnx!
This kind of feedback, provided by a promoter, provides insight into what specifically helps raise NPS. Follow-up might include taking steps to continue ensuring exceptional customer support, which in turn will generate a growing stream of happy promoters.
Some critical feedback may be indicative of overall trends in your NPS survey. Other critical feedback may relate to an exceptional incident that requires your immediate attention. In either case, it's helpful to have a tool that allows you to quickly select and highlight surveys for further review later (Thermostat lets you "star" this kind of feedback, making it easy to find when you have the chance to follow up).
3: Respond to feedback.
As explained above, some of your open-ended feedback may call for a personal response. If the survey taker had previously contacted customer service with a specific complaint that went unaddressed — or experienced unsatisfactory service or a defect in your product — you'll want to start a conversation about the issue.
You may want to do this directly in your survey platform, via email, or by phone call. A personal conversation can even turn a detractor into a promoter by showing that you are personally invested in the customer's experience with your brand.
4: Identify common themes and keywords in your feedback.
Chances are, your happy customers are happy for the same reasons, and your unsatisfied customers are unsatisfied for the same reasons. Identifying common keywords and themes in your open-ended feedback can help you quickly understand your strengths and weaknesses, and what needs to be changed or sustained to raise your NPS.
Let's say that you run a personal finance coaching business, and you offer a special course called "Investing 101." By filtering your feedback according to this special keyword, you'll be able to glean insight on whether this particular course is generating greater levels of satisfaction… or disappointment.
5: Sort your feedback by date range.
Taking a look at when your open-ended feedback was provided can also help you track your customers' responses to specific changes in your product or service. For example, you may have introduced a new feature, increased pricing, or redesigned your user interface. Look at the feedback that immediately followed these changes, and see if there are any noticeable shifts in your NPS. This strategy should help you measure whether you're on the right track. Were these changes successful in making your customers happy? Even if customer satisfaction wasn't the primary objective you had in mind when restructuring, it's important to gauge what kind of impact the changes might be having on the people who ultimately keep your business running.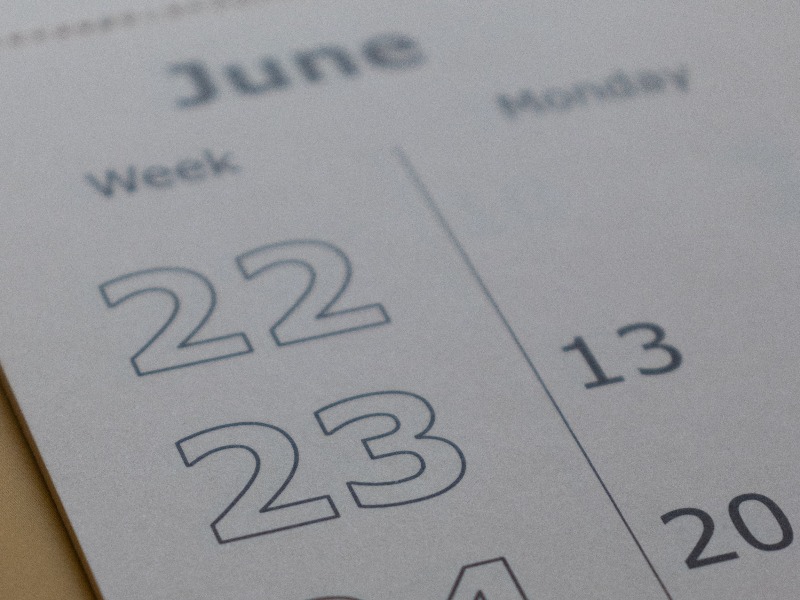 6: Segment feedback for different team members and departments.
Most likely, your NPS feedback will trigger action items that need to be handled by different members of your team (or departments within your company). You'll want to organize open-ended feedback by area of concern (for example, customer support, pricing, or marketing content) and then deliver and report that feedback to "whom it may concern."
Depending on the size and culture of your company, you may want to draw up careful reporting, put together a presentation, or shoot out an email delivering feedback. Whatever method you choose, follow up to ensure that team members respond to the issue and implement any necessary changes (preferably within a predetermined period).
Companies that focus on NPS as a core strategy treat this process of delegation as a critical stage in the feedback loop. Apple sends the open-ended feedback of dissatisfied customers to members of their phone support team, who then individually follow up with detractors by making a personal phone call. And financial service provider Allianz began to provide communication skills training for their employees in response to poor NPS feedback concerning phone support.
By creating space (and processes) to ensure that individual teams and employees effectively respond to NPS and implement any necessary changes, these companies have seen overall NPS growth — and clearly, overall success.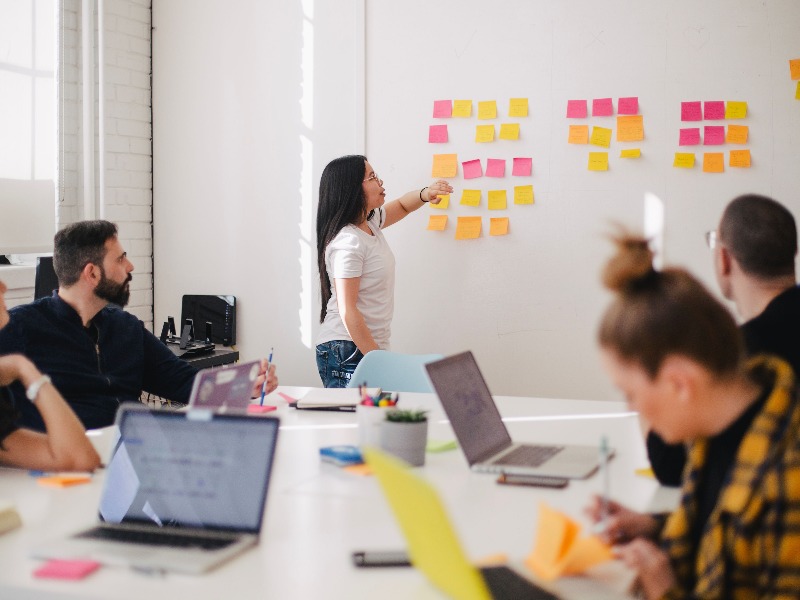 7: Keep customer loyalty at the center.
Ultimately, it's focusing on your customers' satisfaction and devotion (over profits) that will help you build a successful business with a great reputation.
Nurturing customer loyalty should be the goal of nearly any business decision. As you seek to implement NPS feedback, always keep your customers' needs and desires in mind. Make your unhappy customers happy, and your happy customers even happier.
Did you grab your free worksheet yet? 5 Questions to Evaluate Customer Feedback
Making Actionability Easy
Making your NPS feedback actionable is exponentially easier with a system in place to help you collect, filter, organize, respond to, and report feedback. Not only will Thermostat NPS Software help you to implement an NPS survey so that you can gather valuable intel from your customer base; it will also turn that feedback into actionable advice so that you can improve your customer experience. Try it free.
Try Thermostat NPS. 200 NPS surveys free each month.
Blog readers get %5 off paid plans for life with code: blog
Learn More →
Our best articles, right to your inbox